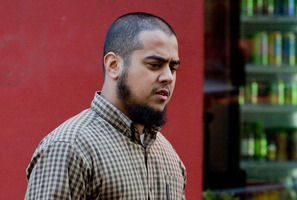 As the first New Zealander to be jailed for possessing extremist propaganda is declined parole again, fresh information about his background has been revealed.
This includes that his New Zealand passport was cancelled after he was stopped at Auckland International Airport trying to leave for Syria with a companion.
Documents released to the Herald on Sunday detail Imran Patel's decade of dealing with police, including instances where he wasn't arrested or charged, before being jailed for distributing and possessing extremist material in June 2016.
In a national first Patel was jailed for three years and nine months after admitting possessing, making and distributing extremist videos.
He disseminated the videos through text to 52 people and when police raided his home he was found with material showing extreme violence and torture.
Patel was declined parole last year — not even showing up to the hearing.
In an unusual move, police's national security investigation team provided submissions to the Parole Board for that hearing.
Police initially refused to release the submissions to the Herald on Sunday, citing protection of Patel's privacy, but provided them after the Ombudsman's office investigated.
The submissions reveal Patel's passport was cancelled after he and an associate tried to leave the country in 2013. Officials, including the Department of Internal Affairs and police, declined to say where Patel was travelling to, or specifics of the security fears.
However Patel's recent parole report — he was before the board this week — details his admission that he planned to go to Syria "and involve himself in the conflict over there".
The submissions show Patel tried to apply for a new passport but was refused on the basis of national security.
The submissions say Patel was repeatedly trespassed and warned away from Avondale Islamic Centre even after being convicted of offences relating to its administrator.
He was first trespassed in 2012 after allegedly threatening Ghulam Haider Lone.
"The threats related to a dispute between opposing factions at the Avondale Islamic Centre, one of the five mosques operated by the New Zealand Muslim Association," the submissions read.
In 2014 Patel was again spoken to by police at the centre after arming himself with a knife during an altercation there. He was arrested for disorderly behaviour, trespassed again and warned for possessing an offensive weapon.
Five months later he was charged with, and later convicted of, threatening behaviour against Lone after he and a group of men went to Lone's home.
Patel was again back at the centre again in 2014 where he was warned by police after allegedly behaving in a disorderly manner, yelling at people near the mosque.
According to the submissions, "Patel became verbally aggressive when spoken to by police".
The submissions detail two road rage incidents, one where he was cautioned, and another where he was convicted of assault with a weapon and threatening to kill after approaching an Auckland driver with a knife and threatening him, and saying, "Allahu Akbar".
In 2017 the Parole Board says in its report Patel appeared to have "no rehabilitation needs other than his attitudes and core beliefs around Islamic State, freedom of expression and religious ideology".
The board echoed that in its February 12 parole report, but ordered he complete a programme of psychological intervention.
Patel was declined parole and will been seen again in November.