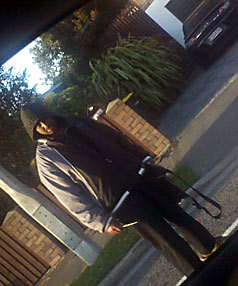 Caught on camera during the 2012 rampage.
He threw a boiling cup of coffee in a nurse's face because he "assaulted" him
A man has pleaded guilty to pouring coffee over a nurse in the Christchurch District Court.
Zakariye Mohamed Hussein, 33, pled guilty to intentionally pouring a boiling cup of coffee over a nurse in the dining room of Hillmorton Hospital.
The incident which occurred on May 31 of this year left the nurse with burns to the face, chest and ear. 
Hussein claims his reasoning behind the attack was due to hospital staff assaulting him when trying to administer his medication by injection.
He is currently serving a six and a half year sentence for an "armed rampage" in 2012 where he kidnapped and injured a council worker. He was found guilty of wounding with intent to cause grievous bodily harm whilst in possession of an unlawful weapon, a knife, at Redwood Primary School.
Hussein was shot twice by police which ended his frenzy.
He was due for release on the August 16.
Hussein has now been remanded in custody for sentencing on the December 12.