A hacker group calling itself the Middle East Cyber Army has temporarily hacked an Auckland University website.

When users searched for the university's English Language Academy site on Google, the link to the site said "Hacked By Middle East Cyber army" with the message "WE ARE MUSLIMS AND WE ARE PROUD!!!" displayed below.

The message also contained a phrase in Arabic which translated to: "Lord God and chosen Islam as a religion and our master Muhammad as a prophet and a messenger."

The website was restored to normal by 10.30am today, but for at least 12 hours an "under maintenance" sign showed instead of the homepage.

The Google search page still showed the hacked message this morning.

The Cyber Army may have been confused about who it had targeted – the group said it had hacked "The University of the Australian" in a Facebook message posted on Friday night.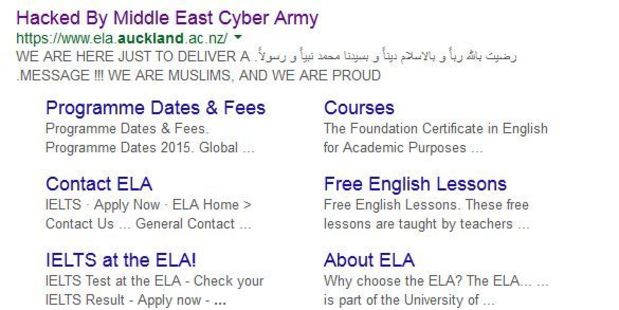 Auckland University website hacked by Middle East Cyber Army
The group has a history of hacking relatively low-traffic websites.
Previous targets included an Arkansas school district website and the website of a community in Quebec with a population of less than 2000 people.
An Auckland University spokeswoman said the English Language Academy (ELA) acted swiftly once alerted to the hack.
"The ELA website was hacked over the weekend and as soon as ELA was alerted, the site was taken offline and replaced with a maintenance page."
The website was hosted on a third party server and students should not be concerned about privacy, the spokeswoman said.
"No student data is stored on the server and no data was compromised."