Quran 2:225. God does not impose blame upon you for what is unintentional in your oaths…
More espionage agents being recruited amid threats on social media.
NZ spies to combat new terror threats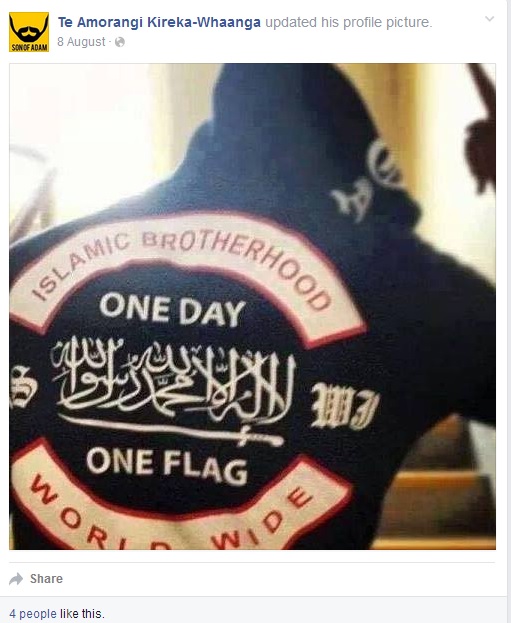 More espionage agents being recruited amid threats on social media
Facebook pages encouraging violence on behalf of Isis (Islamic State) are among factors increasing New Zealand's official terrorism risk and leading to a recruitment drive for new spies, says the Security Intelligence Service director, Rebecca Kitteridge.
In a rare interview, Ms Kitteridge said New Zealand's risk level had gone from very low to low. That might not sound significant, she said, but it was of concern.
She described the public relations and technical skills deployed by Isis and al-Qaeda terrorist groups through social media as "slick".
She said it was an "environmental change" which increased the risk to New Zealand. "Geography doesn't protect us the way it used to. Al-Qaeda and [Isis] are very slick in terms of technology and PR."
Ms Kitteridge also gave details of the types of activities that have led to the development of a "watch list" of 30 to 40 names.
"We are concerned about people channelling funding. Some would very much like to go and fight in Syria and other people talk about doing things in New Zealand.
"Some we worry about a lot and some we are absolutely aware of them but it's another level of risk. We work as hard as we can to make sure we are making that judgment right. But it's not a perfect science."
Ms Kitteridge said SIS staff numbers were linked to the threat level and there had been "very active recruitment" since the Prime Minister announced an increased $7 million in funding in November.
SIS annual reports show the number of people working at the agency has almost doubled since 2001 when it had 111 staff and got $13 million in funding. The most recent report shows it spent $37 million — $3 million more than its budget — and had 218 fulltime-equivalent staff. Ms Kitteridge would not say how many new agents had been hired.
She said they would follow up the leads and tips received by the SIS on 30 to 40 people not yet on the watchlist but whom the PM had identified as needing investigation.
The people who required investigation changed constantly as some were ruled out and others placed on the watch list.
Social media have had an increasing role in Islamic extremism, and Britain and the US have prosecuted users deemed to have made comments supportive of terrorism.
Yesterday, UK Prime Minister David Cameron met Barack Obama to ask the US President to pressure Facebook and Twitter into helping British security agencies to track Islamic extremists.
The Herald has this week tracked multiple Facebook pages of Kiwis that have carried recruitment-style material for Isis.
One such person took to social media this week after French police shot dead three Islamic terrorists in Paris, saying: "My dear beloved brothers and sisters, its time to wake up. Get ur guns, get ur knifes, get ur boots, train intensively, increase your (faith) and (certainty), study the virtues of Jihad (for the sake of Allah)."
Contacted by the Herald, he asked for $2,000 for an interview and refused to talk when told he wouldn't get any money.
Another page displayed imagery of gun-wielding fighters wearing the keffiyeh headdress in Isis colours carrying the organisation's slogans. The message posted with the images was: "Just 1 bullet away from jannah [paradise]."
The Facebook account owner — who gives the Middle East as his current location — was linked last year to the Avondale Islamic Centre shut by the Muslim community after concerns about the style of preaching. The man was visited by police after threats to Herald staff covering the mosque conflict.
The president of the Federation of Islamic Associations NZ, Dr Anwar Ghani, criticised the SIS recruitment drive.
"It's not a positive investment. It's a negative investment. A positive investment is to get the community on board."
Facebook said terrorism-related content was removed once the company was told of it.