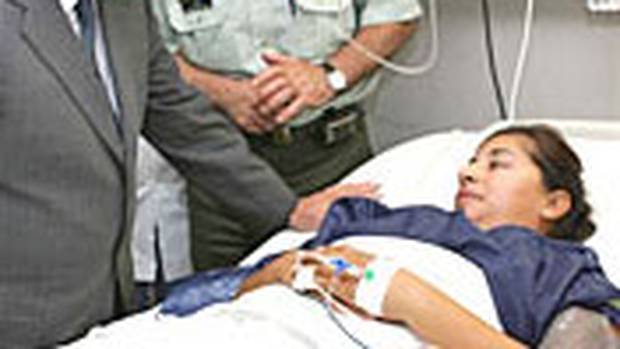 A Jordanian man has been sentenced to death for a shooting in which a British man was killed and a New Zealand woman seriously injured.
Jordan's State Security court convicted Nabil Ahmad Jaoura, 38, a Palestinian refugee, of shooting six tourists who were visiting historic sites in the Jordanian capital Amman last September. He was sentenced to hang.
Jaoura shouted "I am a Jihadist in God's path … Allahu Akbar (God is Greatest)."
Jordanian sentenced to death for killing tourist, wounding NZer
Key Points:
AMMAN – A Jordanian man has been sentenced to death for a shooting in which a British man was killed and a New Zealand woman seriously injured.
Jordan's State Security court convicted Nabil Ahmad Jaoura, 38, a Palestinian refugee, of shooting six tourists who were visiting historic sites in the Jordanian capital Amman last September. He was sentenced to hang.
British tourist Christopher Stokes was killed and two other Britons, one Dutch and one Australian injured. The New Zealander injured was Verena Doolabh, a doctor based in rural Queensland.
She was shot in the spine and has had to learn to walk again, embarking on months of treatment.
The chief judge of the three-man military tribunal said the court had reached a unanimous decision on the death sentence after damning evidence that barred any case for leniency.
Told he had been found guilty, Jaoura shouted "I am a Jihadist in God's path … Allahu Akbar (God is Greatest)."
His court-appointed lawyer, Alaa Atoum, who had pleaded for mercy for his client on the ground that he had no criminal record, said he would appeal against the sentence.
Jaoura had been charged with "perpetrating terrorist acts that led to the death of a person, and the illegal possession of a firearm".
Officials said questioning of the gunman showed he was driven by deep anger at perceived Western and US support for Israeli military offensives in Lebanon and Gaza, but had no links with any political organisation.
Jaoura confessed in court to opening fire on the tourists near Amman's Roman amphitheatre and said he was motivated by hatred of Western policies towards Arabs.
After hearing the verdict, the bearded Jaoura shouted: "Arabs and Muslim will never submit to Western domination or humiliation and will remain masters of their destiny."
Prosecutors said he had also sought revenge for the killing of his two brothers in an Israeli raid on Lebanon in 1982.
The shooting was the first bloodshed to hit the pro-Western kingdom since triple al Qaeda suicide bombings at luxury hotels in November 2005 which killed 60 people.
Anti-Western sentiment has traditionally been strong among Jordanians, and in recent years major conflict in the region has several times inflamed public opinion and driven angry individuals to attack Westerners indiscriminately.
The majority of Jordanians are Palestinians who fled to Jordan after the creation of Israel in 1948 and their children.
Many of them say Western indifference encourages Israeli mistreatment of Palestinians.
Jordanian security officials say the rise of militancy in Jordan is tied to anti-American sentiment that has grown stronger since the US-led invasion of Iraq in 2003 and Israeli military offensives against Palestinians.
– REUTERS, NZHERALD STAFF