As predicted earlier, this Jacinda Ardern glorifying They Are Us expecting taxpayer funding would definitely qualify for it under Jacindas government regulations!
This movie will go ahead, Ardern has already scripted how this pre-production melodrama plays out herself. All the Christchurch Muslims will agree to approve this movie after receiving agreements to shares of royalties from it's box office takings, and also receiving shares of the taxpayer funding as 'consultants'.  But from the very beginning this tragic event was all about Jacinda! So They Are Us expecting taxpayer funding is no surprise, and it will be granted.
You can find some more of the leaked script online.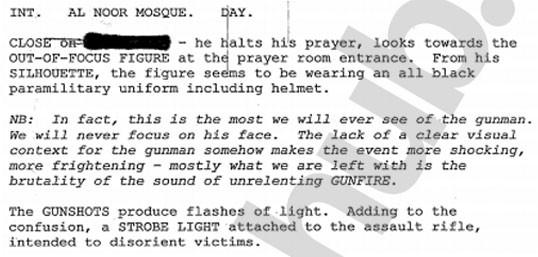 Economist: Taxpayer funded films are a 'losing game'
Makers of the film about the Christchurch mosque attacks are expecting taxpayers to subsidise the venture.
The director Andrew Nicoll has been looking to cover 40 percent of production costs by way of the film subsidy.
Nothing is confirmed yet, but if the movie does go ahead, it would likely qualify for that.
A question to come out of this is whether taxpayers should fund a movie depicting current politicians?
Eric Crampton, chief economist at the NZ Initiative told Tim Dower more often than not, it's the filmmakers that end up winning.
"It's kind of a losing game for taxpayers, internationally; filmmakers come out of it pretty well. Countries bid against each other to try provide the largest subsidies to attract international film productions and when countries do that, the winners wind up being the film companies."