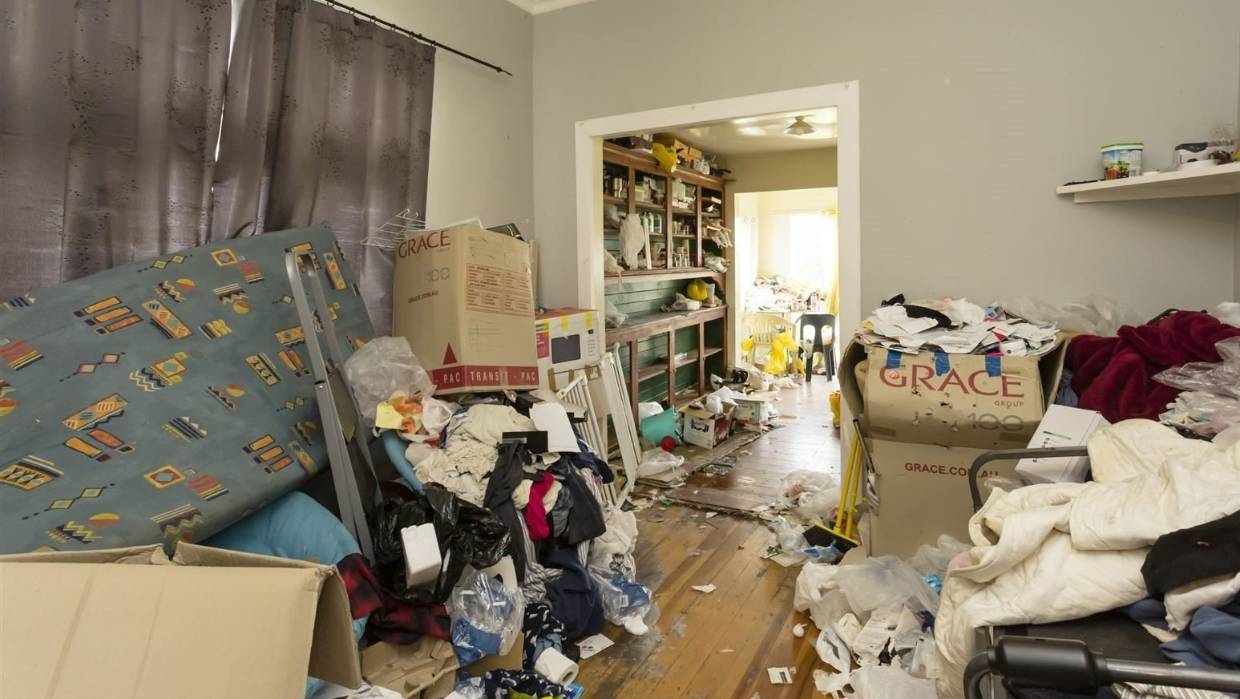 A swarm of flies try to flee a fridge before it is closed, taped up and thrown on a skip.
Soon, two skips are filled with trash from inside the abandoned Dunedin home.
"There is a real story to be told here," owner Carol Boyd says.
And she's right.
But just what the real story is remains unclear.
Boyd paid $275,000 for the three-bedroom Portobello Rd property, in the Dunedin suburb of Sunshine, in October.
It was previously owned by Yasser Mohamed Khaled Taha Maklad, who once lived there with his wife and two children.
At some point in early 2019, Maklad and his intermediate school-aged daughter left their home, possessions and car, never to return.
It is likely Maklad, an Australian citizen originally from Egypt, returned to his home country. His wife and youngest daughter – believed to be about 5 – returned to Egypt a year earlier. But why drop everything and just go?
Their humble home, complete with mountains of discarded items, was sold warts and all at a mortgagee auction – on behalf of their bank – on October 30.
It appears the home was vacant for months before the sale, and had attracted the attention of neighbours, squatters and then police.
Officers were called to the home in March by a concerned neighbour, who had noticed smashed glass, junk mail and community newspapers overflowing from the letter box.
One officer, in documents released to Stuff under the Official Information Act, noted "no-one had been living there for quite sometime".
He reported seeing a smashed glass pane on the rear door, which had been left ajar.
"The house was in a squalid condition as if hoarders had been living there, although it is more likely that teenage squatters were there."
A search found no-one at the home, but there was "just a lot of clothing, junk and general filth piled high throughout the house".
Another neighbour, from a a nearby pensioner flat, told the officer she had not seen the "Middle Eastern" man at the home since November 2018.
The man, according to Dunedin City Council ownership records, was Maklad, who would now be 47.
He was sent an email in April requesting he contact police about his insecure property.
Maklad, who was already overseas, emailed back: "No, I am not aware of neither the broken window at the backdoor nor the probability that there is someone living in my home.
"The home must be not occupied."
The officer returned to the house in April and saw there had been no change, so emailed Maklad again.
"Do you have a Dunedin-based person who is keeping an eye on the house for you?" they asked.
No reply was ever recorded.
Weeks later Maklad, who had bought the home in 2015, was sent a letter from a legal firm on behalf of mortgagee ANZ.
It was listed for sale by early October, with Trade Me pictures showing rubbish strewn around the home.
Real estate agent Kay Lucas, who was also selling the neighbouring property, declined to comment when approached by Stuff.
A neighbour said squatters – two younger women – moved into the house after the Maklad family left earlier in 2019.
MYSTERIOUS ITEMS
Boyd, who lives nearby, bought the property as a first home for her son David to do up.
And a do-up it was.
The real estate agent told the family a shovel was used to clear a path through the various rooms in the home, so would-be buyers could walk through the open home.
"It was years worth of stuff," Boyd says.
She was puzzled why the Maklad family would leave their possessions behind, including personal items such as Maklad's 2014 Australian citizenship certificate, his wife's dissertation, photos of their youngest daughter at daycare, and school books by the eldest daughter.
Many of the clothes were new and still in their packets. Boyd washed them before donating them to an op-shop.
There were also school bags carrying unopened notices, colouring-in books, and lunch boxes containing half-eaten meals.
One of the bedrooms, which was full of baby clothes, had a leak in the roof and someone "had just punched the ceiling to stuff the hole".
"It continued to leak all over the clothes."
While cleaning the home, Boyd and her son found hundreds of plastic bags – mainly from Pak'n Save – which were all tied at the top and contained a single item of food, such as canned tuna.
She believes almost all of the piled-up items were there before any squatters moved in.
"I think the squatters would be doing it tough in there, to be honest.
"The smell in the house was horrendous. The house had been let go in a tragic way, not a lazy way."
Boyd says she had no forwarding address for the family.
She understood they would have made some money from the house sale, after expenses by the bank were deducted.
ANZ would not comment.
WHAT HAPPENED TO THE MAKLAD FAMILY?
There were no clues as to why Maklad suddenly abandoned his home, possessions and 2002 Toyota Camry.
?In July, a resident complained the vehicle, parked near his home, had not been moved for a year.
The Dunedin City Council's impound letter of August 13 was returned to sender, and included a hand-written note by a person unknown but presumably a neighbour.
"No longer in the country. Apparently house is abandoned," the note said.
With no current warrant or registration, and no replies received, the sedan was sold for just $311.
The council confirmed Maklad owed more than $520 in rates and penalties on the property.
It also revealed he was a former employee of the council, who had worked as an engineering project manager for the city's 3 waters team.
His last day of work, as agreed with his manager, was July 9, 2018, a council spokeswoman said.
An Immigration New Zealand spokeswoman confirmed Maklad had left New Zealand, but could not provide any more details, citing privacy concerns.
An elderly neighbour said she had cleared some of the overflowing mail from the mailbox and returned it to sender.
She had lived in the area for almost three years, but had never seen Maklad's wife and children at the home.
Another neighbour did have several interactions with Maklad, who he described as tall and quiet.
The elderly man said Maklad lived in the house with his wife and two daughters until Christmas 2017 when they all returned home to Egypt.
However, his wife and youngest daughter did not return.
The man assumed there must have been a break-up, with Maklad living in the home with his oldest daughter, who was about 12.
He believed Maklad and his daughter left in early 2019, and he last saw him at South Dunedin's The Warehouse "looking panicked".
A couple of months later, he saw two young women leave the house, and assumed they were squatters.
DEVOTED FAMILY MAN 
A former Australian academic, who declined to be named, said Maklad was once enrolled in a research post-graduate degree at the University of New England in Armidale, New South Wales.
"I found him to be a very polite and respectful student. I understood him to be a devoted family man."
It is understood his wife, who had a doctorate in accounting, also worked at the tertiary institution, which declined to comment.
Inquiries into the family's Dunedin connections met a dead-end, and a school and daycare said they could not comment about the children.
Otago Muslim Association president Mohammed Rizwan said "unfortunately that brother is unknown by anyone of us from the community". Up to 90 per cent of Egypt's population identifies as Sunni Muslim.
Maklad did not reply to emails from Stuff.
A former owner of the Portobello Rd property, who sold it to Maklad in September 2015 for $190,000, said he was surprised how much it had deteriorated.
He had gone to one of the property's open homes and was struck by the "mess … and the smell".
"I had a look through and it was heartbreaking."
-stuff