That was THIS organisation's facebook page that was taken down, and we are definitely NOT supporters of Islamic State!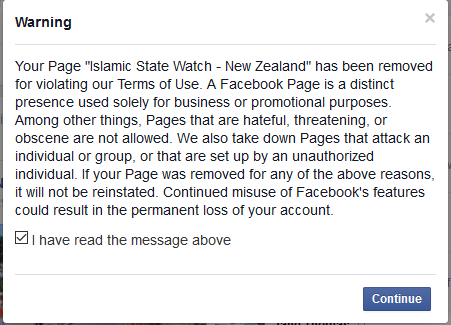 Islamic State supporters in New Zealand are being monitored, a Police spokeswoman says.
Since the Paris attacks last Friday, several local Muslims have changed their Facebook cover photos to the Isis flag. At least one has voiced his support for the attacks and Isis ideology. The Herald has chosen not to identify the names of the pages. "Police and other agencies are aware of and have an interest in the activities of people who might hold or express views that could be of security concern, and will take appropriate action where required," a police spokeswoman said. A spokeswoman for the Minister in Charge of the New Zealand Security Intelligence Service Christopher Finlayson said the security risk for New Zealand is slightly higher now than a year ago. "The minister does not comment on operational matters but notes that New Zealand's domestic threat level, which is under continuous review, remains low," she said.
She said there are still 30-40 people on the Government's watch list.
One of the pages on Facebook was disabled about noon today after the Herald approached the police.
Abdullah Drury, a University of Waikato Islamic studies specialist, said he had argued "vehemently but respectfully" with a follower who expressed support for Isis on his Facebook posts. "I must confess I don't know a lot about support for Isis in NZ. They represent a lunatic fringe and apart from (this follower), I've never come across anyone in NZ expressing any sympathy or support," he said. "A substantial minority of NZ Muslims have fled precisely these clowns or these types of clowns in their respective countries." Mr Drury said the man's posts were more about "the bravado image" rather than any "in-depth analysis of Isis ideology".  A week before the attacks on Paris, the Herald reported that a Facebook page belonging to an Auckland man featured him posing with an Isis flag and holding an AK47-style rifle and speaking of his role in a holy war.  The man, Harun Abdul-Majeed SaifuAllah, said he "100 per cent" supported the views and actions of Isis.  Born William Ringo Ratapu-Howard, the South Auckland man said he changed his name three years ago after converting to Islam.
Intelligence expert Dr Paul Buchanan said at the time that the Muslim convert, appeared to be "somewhat unstable". Last year, Hastings Muslim Te Amorangi Kireka-Whaanga also told the Herald he backed Isis. He claimed to lead the Aotearoa Maori Muslim Association, a religious group with roots in Hawkes Bay.
Isis supporters in NZ being monitored